Tools to Facilitate Access to Digital Orthophotos
Planning Support Systems Group,
M.I.T. Dept. of Urban Studies and Planning

Massachusetts Geographic Information System (MassGIS),
Mass. Executive Office of Environmental Affairs

Try our new seamless interface!
---
This page provides access to a sample of MassGIS digital orthophotos, and associated metadata files, for the Boston area.
Note: MassGIS has many more orthophotos than you'll see here. Check out the orthophoto status map and order form.
---
MIT Digital Orthophoto Browser
Click on your area of interest to get started (or search by place and other keywords below):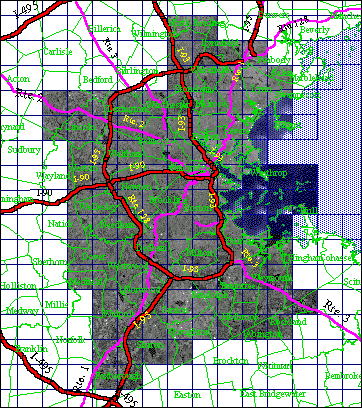 Each of the above cells is 4 kilometres (about 2.5 miles) square, and represents an 8,000x8,000 pixel digital orthophoto image.
Graphical search (images). Through this Web interface you may view a set of Boston area digital orthophotos at several different zoom levels, with pan, zoom, and download functionality. Digital orthos are quite useful since they provide detailed imagery with known and consistent coordinates. But the raw images are often so large and unwieldy that potential users find it too complex and time consuming to locate, scale, and clip out manageable pieces that might help particular tasks. This project is developing Web-based tools that overcome some of these difficulties by using 'perl' scripts on the Web-server to do on-the-fly extraction, formatting, and downloading of digital ortho snippets from a repository of orthos that are catalogued and documented in accordance with the FGDC's emerging metadata standards. You can also see a text listing of the orthophotos available at this site.

---
Z39.50 Metadata Search
The metadata are FGDC-compliant and have been verified using Peter Schweitzer's metadata parser, mp. The metadata can be searched using Z39.50 protocols through an implementation of geospatial Isite tools provided by CNIDR. Search terms include the geographic bounding-box of each image and a set of "place keywords" (neighborhoods, ZIP codes, and principal features).

The button above will establish a "stateful" Z39.50 connection with the metadata server. If no input is received for for some time, your session will expire and you'll need to reinitialize the search engine (e.g., by pressing the 'Begin Search Session' button above).

You may also view a list of available metadata pages.
---
References and Acknowledgments
This site is a node on the National GeoSpatial Data Clearinghouse, part of the National Spatial Data Infrastructure. The site was developed at M.I.T. by the Planning Support Systems Group of the Urban Studies and Planning Department using the facilities of the Department's Computer Resource Lab and digital orthophotos provided by MassGIS. Metadata describing these images are in conformance with the federal Content Standard for Digital Geospatial Metadata, and accessible through a Z39.50 interface.

This project is supported in part by a 1995 award from the Competitive Cooperative Agreements Program (CCAP) of the Federal Geographic Data Committee (FGDC). The server tools and ortho library have been developed and implemented on a Sun SPARCserver 1000E.
---
Research Team
at MIT: Click for Project Goals and Design Strategy

Prof. Joseph Ferreira, Jr. (Principal Investigator)
John Evans (graphical browser)
Thomas Grayson (metadata tools)
Philip Thompson (graphics utilities)
Andrew Wheeler (advanced scripts)

at MassGIS:

Christian Jacqz, MassGIS Manager
Version 1.1: Last modified 5 February 1998. (http://ortho.mit.edu/nsdi/)
Send comments to:

mailto:

[email protected]

.



---
This site abides by the Web Interoperability Pledge